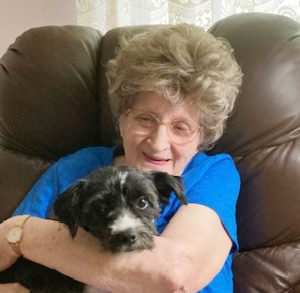 Betty Ann Underwood, 84, of Lizemores, WV, entered heaven on August 19, 2023. She was born on March 17, 1939. Betty had a beautiful life that she spent caring for her children and had a career as a postmaster for the US Postal Service. Some knew her as the Avon lady or the cake lady while others enjoyed her serving at the local Christian Center. She was a staple in her pew at Lizemores United Methodist Church. Betty spent her later years of life enjoying the company of her family and friends.
Betty was blessed with a big family. Preceding her in death are her husband, Alfred Underwood; parents, David and Georgie Foreman; her brothers, Robert and Charles Foreman; and her daughter-in-law, Charlotte McCune. She is survived by her siblings, Gordon (Linda) Foreman of Pelican, LA, JoAnn (Hans) Kerbetz of Kenosha, WI, Dana Kay Foreman of Amelia, VA, Carl (Janice) Foreman of North Port, FL, and Thomas (Joyce) Foreman of Wetumpka, AL; her sons, Jerry McCune of Stonewall, LA, Barry (Patsy) McCune of Lizemores, WV, Derrick McCune of Lizemores, WV, and Michael (Christina) McCune of Indore, WV; her grandchildren, Patrick, Paul, Bridga, Sara, Tasha, David, and Tyler; and her great-grandchildren, John, Devin, Joey, Faith Ann, Zoey, Harrison, and Alexander.
A celebration of life for our beloved Betty was held at Lizemores United Methodist Church on Thursday, August 24, with the visitation starting at 1:00 p.m. for friends and the service at 2:00. Services were conducted by Don Dobbins.
The family would like to thank Hubbard Hospice Care for their excellent end of life care and to thank Patsy McCune, Arlena McCune, Christina McCune, and John McCune for the continued care of Betty throughout the years.
Online condolences may be sent to the family at www.carlwilsonfuneralhome.com.
Wilson Smith Funeral Home is honored to be serving the Underwood family.