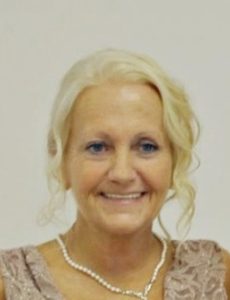 Deborah Cogar Smith-Donahue, 65, of Dixie passed away peacefully at her home Sunday, August 20th, 2023, with her husband, family and friends by her side.
She was third born, on July 4th, 1958, to the late Dallas and Freda Nichols Cogar.
Debbie is survived by her husband Jerry Donahue; son, Chad Smith (Brandy) of Dixie; grandson, Austen Smith (Gina Adams) of Dixie; granddaughter, Jazlyn Smith of Dixie; sister, Kay Elswick; brothers, Carl Cogar (Judy) of Dixie, Doug Cogar (Tracy) of Montgomery, Randy Cogar of Charlton Heights; father-in-law, Damon Donahue of  Nettie; stepsons, Matthew (Melanie) Donahue of Nettie, Jordon Donahue (Courtney Wuollett) of Paonia, Colorado, Ronnie Smith (Erica) of Toledo, Ohio, Terry Smith of Cleveland, Ohio; stepdaughter, Miranda (James) Short of Rock Springs, Wyoming; step grandchildren, Cooper and Slayter Donahue, Kylie and Brantley Donahue, Caden and Grayson Short, Hunter and RJ Smith.
Debbie fought hard as a Pulmonary Fibrosis Warrior.
She was a Christian and attended the Bell Creek Pentecostal Holiness Church of Dixie.
She was retired from the Mount Olive Correctional Complex with twenty-three (23) years of service.
Her compassions were her flowers and her two fur baby cats, Miss Kitty and Half Pint.
A visitation was held on Friday, August 25th at Pennington Smith Funeral Home, Gauley Bridge from 6 to 8:00 p.m.
A funeral service was conducted on Saturday, August 26, at 12:00 noon, at Pennington Smith Funeral Home in Gauley Bridge with Pastor Nathan Johnson officiating. Interment followed in the Kanawha Valley Memorial Gardens in Glasgow, WV.
Online condolences may be sent to the family at carlwilsonfuneralhome.com
Pennington Smith Funeral Home is honored to be serving the Donahue family.