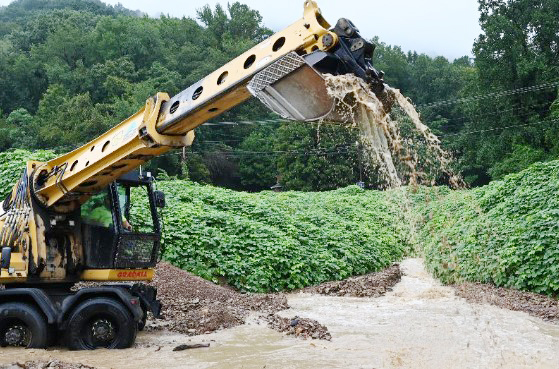 West Virginia Division of Highways (WVDOH) District 1 crews continue to respond to flash flooding following heavy rains that prompted Gov. Jim Justice to issue a State of Emergency in several counties. The West Virginia National Guard, West Virginia Emergency Management Division, WVDOH, FEMA, Voluntary Organizations Active in Disaster (VOAD) and local officials are coordinating to aid residents needing assistance.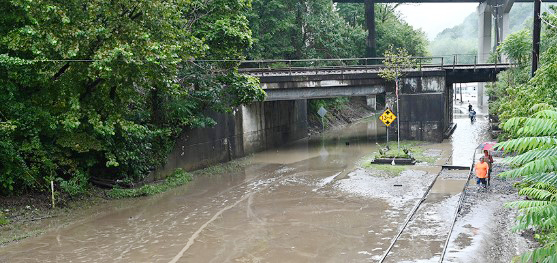 A weather system on the night of Saturday, August 26, 2023 into the morning of Sunday, August 27, 2023 caused dangerous high waters in the Chelyan area including Slaughters Creek and Little Creek. The rising waters caused damage to roads, bridges, businesses, and homes.
"We will have as many people out as necessary to get these roads open," said Arlie Matney, WVDOH District 1 Manager. "We would ask that people be patient with us. We will have someone there around the clock to make necessary repairs. Be safe traveling in this bad weather."
On Sunday, WVDOH crews repaired the Little Creek bridge over Slaughter Creek. Debris and water pressure lifted the timber deck off its steel beams. WVDOH crews replaced 97 boards and removed debris from the bridge's superstructure in seven hours. The bridge is under water again today.
Heavy maintenance workers were clearing culverts and mudslides on Sunday.
"We had our transportation workers escorting people to their homes once roads were open," said Matney. "It was an amazing cooperation with all of our staff. They did absolutely amazing."
The additional rain on Monday, August 28, 2023, in the same area of Kanawha County impacted Little Creek Road, Bradley Fork Road, Winifrede Hollow Road, Witcher Creek Road, Cooper Hollow Road, Slaughters Creek Road, and US 60 at Belle. Mudslides closed US 60 in Cedar Grove and the West Virginia Turnpike near Chelyan. As of 11 a.m. Monday, one lane is open each direction on US 60 in Cedar Grove.
Crews are trying to keep culverts clear and waiting for water to recede to assess further damage.
"Anything we can get to we're out cleaning up to keep roads open," said Kathy Rushworth, P.E., District 1 Maintenance Engineer. "It's just a freak of nature that this happened two days in a row."
As of 10 a.m. on Monday, in Clay County, Nebo Road, Clinic Road and WV 16 at milepost 42 were closed due to high water.
Also Monday, West Virginia Turnpike crews responded to a mudslide on the Turnpike near Chelyan. The right lane remained closed. as heavy equipment crews worked to clear the slide and remove water and is expected to reopen early this afternoon. Emergency services were not allowing anyone off the Sharon or Chelyan exits due to flooding in those areas.
Motorists are advised to never drive through high water. High water can conceal washed out roads and damaged bridges, while the water may be far deeper than it appears. Floodwaters may also be marked by swift currents that can sweep vehicles and people away.