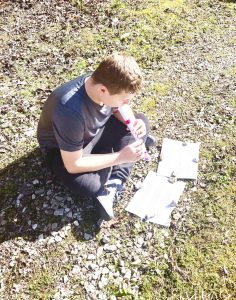 On a recent warm afternoon, Levi Hughes, a fifth grader at Lizemore Elementary School, used rocks to keep his sheet music from blowing away on a March breeze.  Levi was joined by his classmates as they scattered around the spacious playground to practice playing "Amazing Grace."
The students were playing a new type of recorder made by the Nuvo company.  According to 5th grade teacher Stephanie Gauding, the recorders are easier to play than a traditional recorder. 
 "Instead of the musician covering an air hole with their fingers, the recorders have silicone keys which the students depress to play individual notes.  The instruments also have an adjustable thumb rest to fit different sized hands.  There is a lot less squeaking with the Nuvo recorder and they are much easier to play," said Gauding.
The fifth graders are practicing several songs and will eventually use them in their graduation ceremony.
Gauding noted that the recorders are more costly than plastic recorders.  "The music lessons are incorporated in our attendance incentive program, so we were able to get some financial support from the Communities In Schools program."