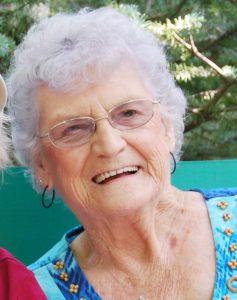 On August 29, 2023, Laura Jane Sizemore (nee Devlin) of Clay, WV, passed away peacefully at her home. She was 95.  
Laura was born on December 4, 1927, in Point Marion, PA and was also known as Jane or Zeke to her family and friends. She attended nursing school in Morgantown, WV, and met her future husband, R.T. Sizemore, while working in the hospital there. Soon, the handsome young frat boy proposed and invited her to travel to Clay to meet his parents. She was quite the adventurous type, so she said yes to both! Laura became a young Clay County bride, and she loved the people and the community.  
In addition to her parents, she was preceded in death by brothers James and William, sister Marjory, her husband Richard T Sizemore II, and son David Patterson.  
She is survived by sons Richard Tom III (Laurie) of Murfreesboro TN, Dan Devlin (Robin) of Charleston WV, Edward Ray (Kathy) Duck, WV, and daughter Patricia Fromm (Mark) Portland OR; grandchildren, Eric Christopher, Amy Kathleen, Monica Justine, Michael Koty Mitchell, Carey Lynn Smith (Dustin), Anthony David (Jerilea), Daniel Chadwick (Jessica), Jonathan Devlin, Tiffany Lynn Litton (Isaiah), Autumn Brooke Frame (Michael), Sherry Renee Weaver (Benjamin), Mindy Gianninoto (Dominicc) Brian Patterson; and great grandchildren, Kinsey, Ravi, Emily, Wilson, Devlin, Tali, Zoe, Becks, Dalton, Kegan, Taylor, Gillian, Baile, Eleanor, Charlotte, Orazio and Rosalena.  
Laura was very active in the community and participated in service organizations including 33 years as a Lions Club member and chaired the Scholarship program for many years. She was an active Rebecca for decades.  
While living in Two Run, she was a member of the Fairview Baptist Church, where she was the church pianist, accompanied a religious quartet, and enjoyed traveling to various churches and revivals. After relocation to downtown Clay, she joined the Clay 1st Baptist Church.  
Laura also managed the family business while RT pursued his political career. She loved the store where many employees and customers became her beloved friends.  
Visitation was held Monday, September 4, at 11 a.m., with a funeral service at 12 noon at Wilson Smith Funeral Home 154 Main Street, Clay, WV. A graveside service followed at Clay Memorial Gardens, Clay, WV.  
In lieu of flowers, donations may be made to West Virginia Hospice https://www.hospicecarewv.org/  
Online condolences may be sent to the family at www.carlwilsonsfuneralhome.com  
Wilson Smith Funeral Home is honored to be serving the Sizemore family.