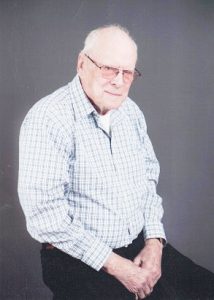 Joseph T. Cain, 93, passed away Friday doing what he enjoyed, tending his Hereford cattle. 
He was born at Brooksville, WV, the youngest son of Everett and Eva Starcher Cain.  
A graduate of Calhoun County High, WVU, and OSU School of Veterinary Medicine, he practiced as a veterinarian for over 60 years.
He served during the Korean Conflict, and upon return married Dorcas Haught. Over the years he was a member on various committees and boards. In 2013 he was named WV Farmer of the Year. 
Joe is survived by his three children, Daniel (Barbara), Jane Lynch (Keith) and Richard (Janey). He has five grandchildren, Susan, Samuel, Shaina, Sarah (Terry) and Megan; and two great-granddaughters, Jo and Eva. He is also survived by one brother-in-law, James Haught (Wannalee), and sister-in-law, Carol Haught, as well as several nieces and nephews.  
Joe was predeceased by his wife of 56 years, Dorcas; his parents, Everett and Eva; brother, Francis; and sister, Jewell and their spouses; sister-in-law, Deale Wright; and brothers-in-law Keith Wright and Horace Haught Jr.  
Visitation was held on Thursday, March 23, beginning at 1:00pm at his church, Brooksville Missionary Baptist Church in Big Bend, WV.  Funeral service followed at 3:00 p.m., with burial immediately after at the Broomstick Cemetery, with military honors and Masonic Rites.  
In lieu of flowers the family suggests a donation to a local farmer education program, Wounded Warriors, or a charity of your choice.
John H. Taylor Funeral Home, Spencer, is assisting the family with arrangements. 
Condolences may be shared at www.taylorfuneralhomeinc.com.