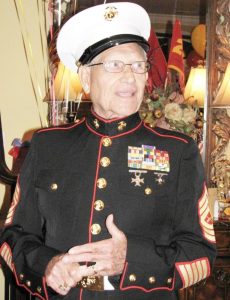 James Milroy Brown, Jr., 92, passed away on March 3, 2023. He is survived by his wife, Betty Sue Brown; his sons Jimmy Brown, Joey Brown, Tommy Nichols, and Ed Nichols; his grandchildren Jason Brown, Zach Nichols, and Rachel Nichols; his great-grandchildren Jaxon and Kenneth; his siblings Gale, Pauline, Joe, Philip, Rosie Jane and Betty, and many nieces and nephews He dearly loved his family and his friends.
He was preceded in death by his parents Jim and Bertha Brown, siblings Eva, Paul and David, and granddaughter Brandy Brown.
Professionally, he earned a bachelor's degree and a master's degree from Memphis State University, spending over 25 years in the Memphis City School system as a teacher, administrator, and board member. Retired from the Marine Corps as Master Sergeant and until his death, he was a dedicated member of the Marine Corps League. You would likely find Jim (or Roy as many of us knew him) behind a podium, speaking of his military career, the significance of the Korean War, and his experience in the Battle of Chosin Reservoir. He also served in the Vietnam War. Throughout his military career, he received many honors and was proud of the Purple Heart with Gold Star, Korean Service Medal with three Gold Stars, Presidential Unit Citation with two Bronze Stars, and Combat Action Ribbon with three Gold Stars.
A funeral service was held on March 9. The family requests memorials be made to the Marine Corps League.
 Online condolences and floral gifts can be sent by visiting https://www.dignitymemorial.com/obituaries/memphis-tn/james-brown-11182209