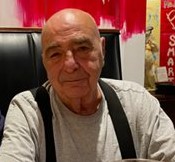 Earl Joseph Fasanelli, age 79, passed away on May 1, 2023, after a long battle with cancer.
He was the son of the late Joseph Fasanelli and Louise Morriston Fasanelli Stanely.
He is survived by his wife Sherry Sparks Fasanelli; daughters, Amy, Tracy and Terri,
Son-in-laws, BJ and Huck; grandchildren, Cheylinda, Andrew, Kasey, Keylan, Chris, Ian and Maggie; and sister, Nancy Lees.
He was preceded in death by daughter, Lisa, and granddaughter, Jessica.
He was a graduate of Nashville Auto Diesel College. For 58 years he worked at Stan's Auto Electric in North Charleston, 48 of those as the owner.
Joe had an unforgettable quick wit and uncanny ability to see humor in every situation. He loved to laugh and was never one to complain.
He was also never one to set idle, staying busy gardening, mowing and fishing as much as possible.
The family would like to thank Hospice for all their care.
A graveside service was held at 1:00 p.m. on Thursday, May 4, 2023, at E W King Cemetery on Marne Ridge Road, Bomont, WV.
Online condolences may be sent to the family at www.carlwilsonfuneralhome.com
Wilson Smith Funeral Home is honored to be serving the Fasanelli family.