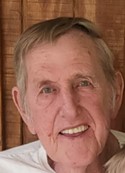 Arlie Lee Grose, 83, of Harrison, WV, passed away on October 2, 2023
Born on July 29, 1940, he was the son of the late Hubert and Beulah Cadle Grose. In addition to his parents, Arlie was preceded in death by his wife of 56 years, Abbie Grose; brothers, Roland, Danny, and Raymond.
Arlie is survived by his sons, Jessie (Brenda) Grose, Justen (Samantha) Duffield; daughters, Karen (Gary) Nicholas and Geneva Flint (Jerry Sigman); 8 grandchildren, 8 great grandchildren; 2 sisters, 4 brothers and very special friends, Roscoe and Joann Wilson.
Funeral Services will be 1:00 pm Friday, October 6, 2023, at Wilson Smith Funeral Home, Clay, WV. Arlie nephew, Jeff Neff will be officiating. Burial will follow in the Grose Family Cemetery, Harrison, WV.
Online condolences may be sent to the family at wwwcarlwilsonfuneralhome.com
Wilson Smith Funeral Home is honored to be serving the Grose family.