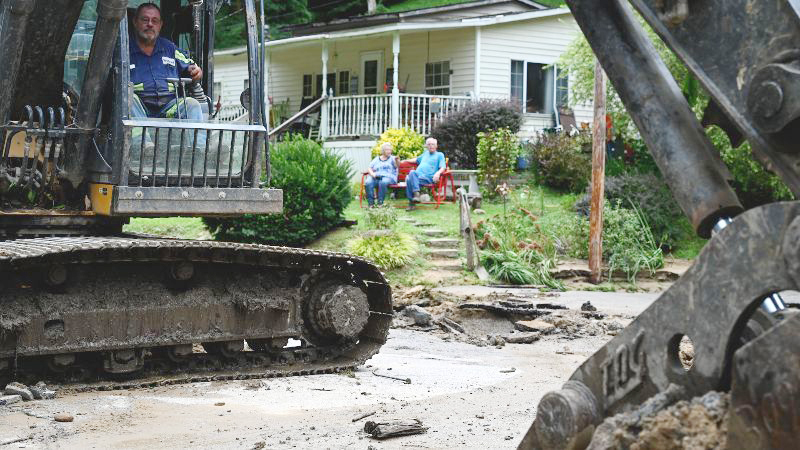 West Virginia Division of Highways (WVDOH) District 1 crews continue to respond to flash flooding recovery efforts following heavy rains that prompted Gov. Jim Justice to issue a State of Emergency in several counties. The West Virginia National Guard, West Virginia Emergency Management Division, WVDOH, FEMA, Voluntary Organizations Active in Disaster (VOAD) and local officials are coordinating to aid residents needing assistance.
Several inches of rain fell on multiple days from Saturday, August 26, 2023 into Monday, August 28, 2023  in eastern Kanawha County causing dangerous high waters in the Chelyan area including Winifrede, Slaughters Creek and Little Creek. The rising waters caused damage to roads, bridges, businesses, and homes. WVDOH is now all hands on deck to help bring the community back.
"Saturday I was thankful for the response by Highways, Sunday I was very thankful and today (Tuesday) I am even more thankful as we're getting these places opened back up," said C.W. Sigman, Kanawha County Director of Emergency Management.
"We have folks that are stranded and they cannot get out until WVDOH crews get in there and see what they can do to open these roads up."
On Tuesday morning, WVDOH District 1 leaders including District 1 Manager Arlie Matney and District 1 Maintenance Engineer Kathy Rushworth held a maintenance meeting at the Chelyan headquarters, updating the WVDOH efforts and statuses of local roads and bridges.
WVDOH crews continue to remove debris from portions of Little Creek. On Sunday, WVDOH crews repaired the Little Creek bridge over Slaughters Creek. Debris and water pressure lifted the timber deck off its steel beams. WVDOH crews replaced 97 boards and removed debris from the bridge's superstructure in seven hours. The bridge was under water again Monday.
 "Be patient," said Sigman of response efforts. "Highways is on it right now. I can't complain about the response, it was very fast. Give them a break. If you don't have to go by the construction zone, don't because it slows the process down."