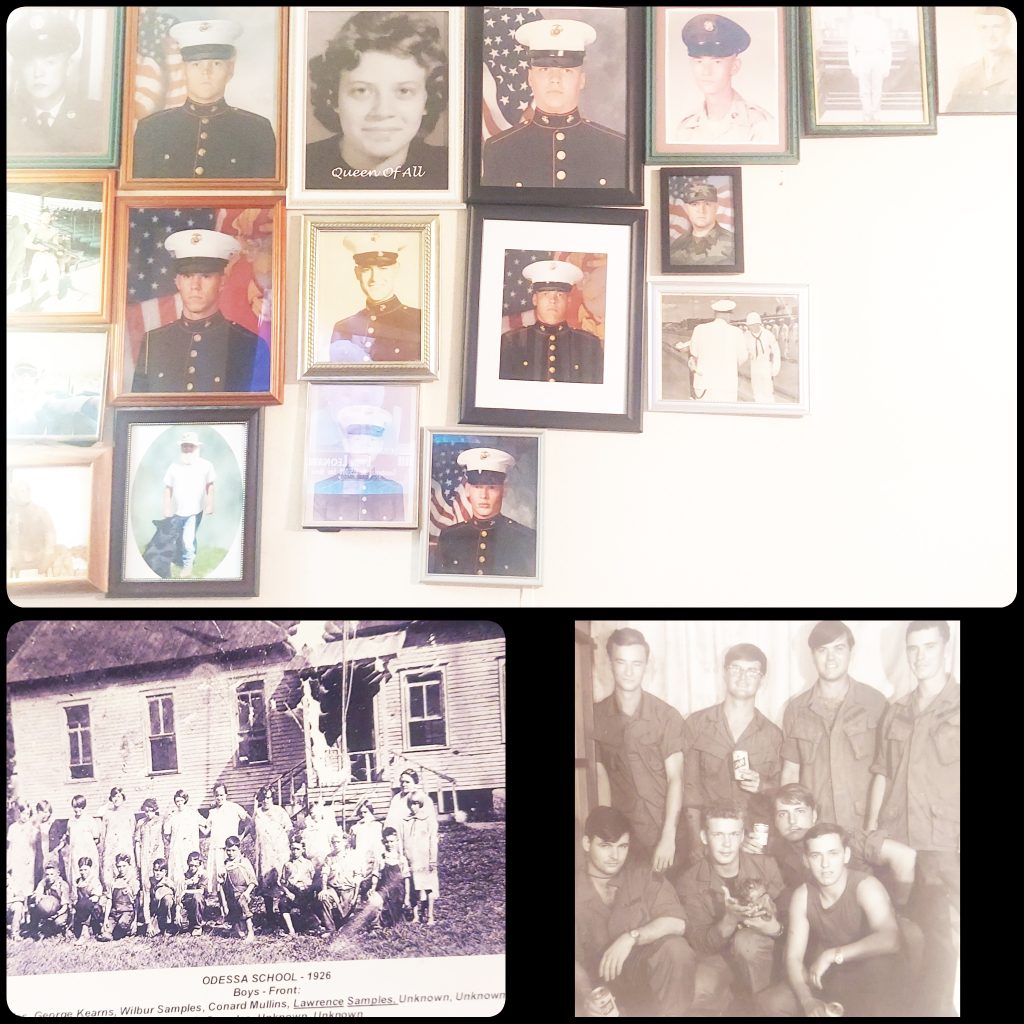 By: Betty Holcomb 
When you walk into William C. Mitchell's home in Bomont you are met with a wall of pictures and memories from years of family members that have proudly served our country.  Mr. Mitchell, or Tune as friends and family call him, is very proud of the accomplishments of his children, grandchildren, nephews, and brothers who bravely protected our country. 
Mr. Mitchell resides in Bomont, and at the end of his driveway is where the old Odessa School sat, which he attended in the 1920s. William and his wife, Nellie Sue Mitchell, who passed in Feburary 2022, were very involved with H.E. White Elementary and their community.  The memory that Mr. Mitchell has kept alive of his wife and family members is special to him, and he proudly represents that in his home with his wall of memories. 
The long line of family members that served in the Armed Forces are as follows:
Joshua Mitchell graduated Marine bootcamp in September 2008 and was stationed in Quantico, VA and serves with Honor Guard. Austin Mitchell joined the Marines in 2005, serving two tours of duty in Iraq in Afghanistan. Marine Lance Cpl. Alfred Empsey Michell, Tulsa, Oklahoma.  Allen Wayne "Pain" Michell (1951-2006) of Bomont served with the Army in Vietnam and received the Purple Heart. Marine Cpr. Brad Mitchell, Marine Lance Cpl. Michael N. Mitchell of Pine Grove, Marine Lance Cpl. John Mitchell of Bomont, Air Force Airman 1st Class Edward E. Michell of Bomont (1934-2009), World War II Veteran Charlie J. Mitchell (1910-1971) of Dry Ridge was an Army Master Sergeant, Army Spec. E-4 Calvert Mitchell Clendenin served from 1957-1960 along with Samuel Mitchell of Bomont. Andy Mitchell aided in the mission to bring home POW, Jessica Lynch, in 2003 where he was recognized by President, George W. Bush.