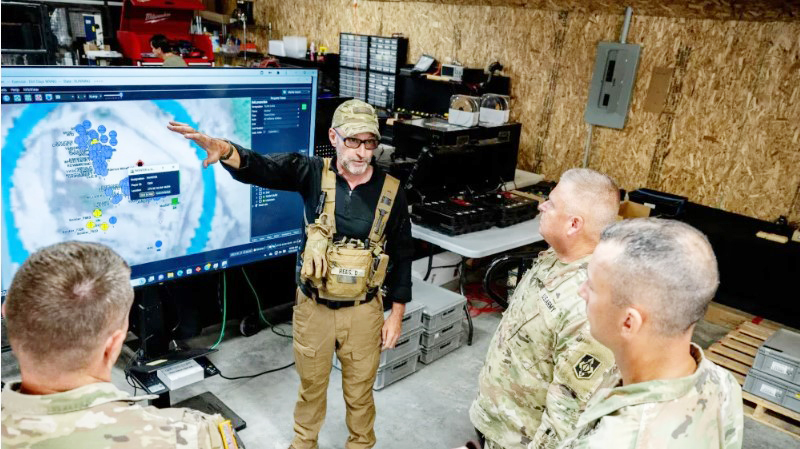 The Civil-Military Innovation Institute (CMI2), based in Morgantown, West Virginia, is marking the first year of a signed collaboration agreement with Saab, combining CMI2's capability to bridge the gaps in defense innovation and technology experimentation with Saab's expertise in advanced training solutions. The alliance blends CMI2's focus on experimentation and training at its Adaptive Experimentation Facility in Fola, West Virginia, with Saab's focus on producing and implementing advanced military training systems to improve Soldier and warfighter readiness. 
The first full year of the collaboration between CMI2 and Saab boasts numerous successful events via partnerships with the United States Army Combat Capabilities Development Command (DEVCOM), the 101st Airborne, and 82nd Airborne Divisions. Most recently, in July 2023, CMI2 engaged Saab to support Soldiers from the West Virginia Army National Guard.
"Our collaboration with CMI2 combines our world leading military training solutions and their capabilities in experimentation to create something truly unique – a live     training environment that forces adaptive thinking to fulfill our customers' unique and ever evolving training requirements," said Erik Smith, President and CEO of Saab in the U.S. "I'm proud of what our two organizations have been able to accomplish in such a short amount of time."
The CMI2 Fola site is a stand-alone training and experimentation facility designed to enable Soldiers, Marines, Special Operators, and other groups to conduct live free-play events to evaluate new technologies in a realistic training environment. Saab's collaboration with CMI2 combines its training solutions and CMI2's capabilities in experimentation to create a unique,  austere and challenging training environment.   
"The beauty of this collaboration is that CMI2 and Saab are implementing a one-of-a-kind offering that includes the ability to perform technology experimentation and advanced training in the same location," said CMI2 founder Dr. Zenovy Wowczuk. "This collaboration also includes creating a joint office and innovation facility at the Fola site."
In mid-April, CMI2 and Saab collaborated to host the second of three successful Driving Innovation in Realistic Training (DIRT) Days, where more than 300 military personnel participated in and field-tested emerging tactics and technology while bolstering their operation skill sets through challenging, realistic exercises in the rugged terrain of Clay County, West Virginia.
  "CMI2 not only established a collaboration with an international company the caliber of Saab, but they have found a leading defense company who's also investing in West Virginia and hiring West Virginians," said Governor Jim Justice. "Together, these two companies are building a one-of-a-kind military capability right here in the Mountain State, which will no doubt be the premier training space for the next decade."
Built on a reclaimed coal mine property, the Adaptive Experimentation Facility was transformed by CMI2 to create a destination for testing and experimentation of military technology against a permanent, professional adversary/red-team force. The opposition force capability allows the developers to stress experimental technology and provide real-time design modifications to optimize the development cycle. This red-team capability also allows Soldiers to interrogate current tactics, techniques, and procedures (TTP) during and after training events with the help of Saab's advanced training aides, After Action Reporting (AARs), and leverage the data they can collect and analyze.
Wowczuk said each organization's unique capabilities will allow for new technologies and advanced training systems to be implemented and create a one-of-a-kind testbed for both Soldiers and technology developers.
"The Adaptive Experimentation Facility is not your cookie cutter test range or training facility. We have created a truly niche facility and a new way for Soldiers to prepare for the next fight," Wowczuk said. "The combined resources of Saab and CMI2 will truly make Fola a distinctive destination with exceptional capabilities."