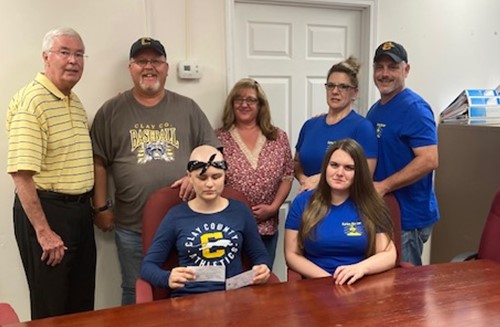 The Clay Lions Club held their annual Rubber Ducky Race during the Apple Festival. Half of the proceeds usually goes to the scholarship fund for Clay County High School graduating seniors. This year they dedicated the money to the Katie Price family. Katie is a 15-year-old sophomore at Clay County High School. 
The winning duck was sponsored by Vickie Holcomb, the financial secretary at Clay County High School. In fact, Vickie sponsored 20 ducks, at the cost of $100. Katie and Vickie were to receive $930 each from the money collected by the Lions Club members. However, Vickie insisted that her part of the funds would also be given to Katie and her family to help with the expenses incurred during her treatments at the West Virginia University Hospital. 
Due to Vickie's generosity, the Katie Price family will receive the entire amount of $1,860. 
Katie has osteosarcoma, commonly known as bone cancer. With treatments at the WVU Medical Center, she was able to beat cancer once. However, it has returned and once again, she and her mother travel to Morgantown every three weeks for treatment. Katie's treatments last for 6 consecutive days.
The Clay Lions Club would like to thank all the people who willingly gave to this worthy cause. We are fortunate to live in a county where the people care for each other.