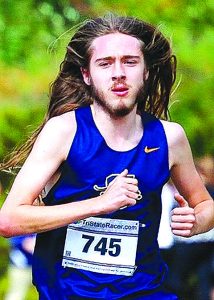 The Clay County High School cross country teams traveled to Little Beaver State Park in Beaver, West Virginia on Oct. 19 to compete in the Region III AA Meet.  Teams in this region include Bluefield, Clay, Herbert Hoover, Independence, Liberty Raleigh, Nicholas, PikeView, Shady Spring, Westside, and Wyoming East. With a fourth-place finish, junior Sawyer Dobbins earned First Team All-Region honors and qualified for the WV State XC Meet. To advance, a runner had to finish in the top ten in Regions II, III and IV, and the top twelve in region I, or be on one of the top two to three teams in each region. This will be Dobbins' second appearance at the State Meet. Also, for the Panthers at regionals, Kane Nida, Kaden Fitzwater, Patrick Boggs, Daymian Stricker, Trent Hinkle and Evan Bass all put forth great effort.  In fact, the group finished fourth overall, only eleven points behind third.  A third-place finish would have secured a team spot at the State Meet.
For the Panther girls' team, freshman Cheyanne Taylor earned a medal and Second Team All-Region honors with her thirteenth-place finish. Additionally, with her times this year, Taylor moved into twelfth on the all-time leaderboard at CCHS. At the regional meet, seniors Olivia Witt and Jaylyn Belt ran great races to wrap up their high school XC careers. Shyenne Quinn, Jaylyn Holcomb, Ashley Roberts, and Christina Belt also worked hard all year and ended the season on a positive note.  The team placed fifth overall.
Congratulations to the Panthers on a very successful season, and best wishes to Sawyer Dobbins as he travels to Cabell Midland High School on October 28 to compete against some of the best runners in the State.