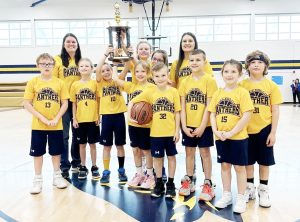 Big Otter Elementary School Dobbins A Team won the 4th-5th grade Clay County Youth Basketball League championship held at Clay County High School on March 4.This team was undefeated, going 10-0 in the regular season and winning three straight games in the tournament to capture the title.  They defeated Clay Elementary Taylor 33-12 in the championship game. Players for Big Otter are fifth graders Karter Brown, Gunner Dobbins, Zain Gray, Trenton Parker and Wyatt Persinger, and fourth graders Taygan Boggs, Bradley Childers, Kinley Collins, Isaac Lilly, Brandon McCourt, Holden Reed, Logan Taylor, and Chuck Young.  Coaches are Philip Dobbins and Bailey Boggs.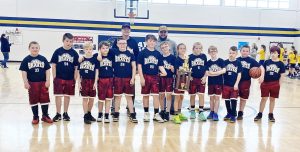 Clay Elementary School Young B Team won the 2nd-3rd grade basketball championship.  Clay outscored opponent Big Otter Paxton 26-22 in a nail biter to the finish.  Players on the team are Allie Drake, Lila Duffield, Braelyn Fugate, Kash Kincaid, Sierra McMillion, Everett Mullins, Tucker Potasnik, Abigail Samples, Jaden Vance, and Jase Young.  Coached by Savannah Young and Melissa McMillion, the team was an impressive 12-1 on the season.
Congratulations to both teams on a job well done!