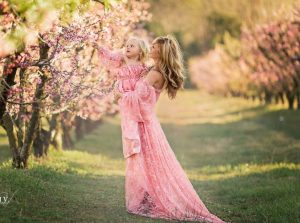 By: Betty Holcomb 
Got a mini me that loves to get dressed up?  Need an excuse to be matching with your child?  The Clay County Ag Fair has a pageant that is perfect for you!  This pageant will be held on Saturday, April 1, at Maysel Park.  
Dress up in your matching, coordinating outfits and hit the stage for a chance to be crowned in matching crowns and sashes with your child, grandchild, or relative.  You are urged to have fun with the attire and make it a fun-filled pageant day.  
High Point Ultimate Supremes, Grand Supreme, and Mini Supremes will be awarded as well as Queen, Princess, King, and Prince titles.  Divisions will be based on age of child (birth-18 yrs.) $45 entry fee per child/relative duo.  $5 per each extra child competing.  Overalls will be awarded for Overall Most Look Alike, Best Dressed, Best Duo, and Best Family Photo (please bring photo to pageant). Overall categories cost $20 for entry. 
Come out and show off your look alike and win a set of matching crowns and sashes.  All proceeds go to the Clay County Ag Fair. 
Please contact Betsy Keiffer at 304-618-2701 for information or an application. Deadline for entries are March 25, 2023.