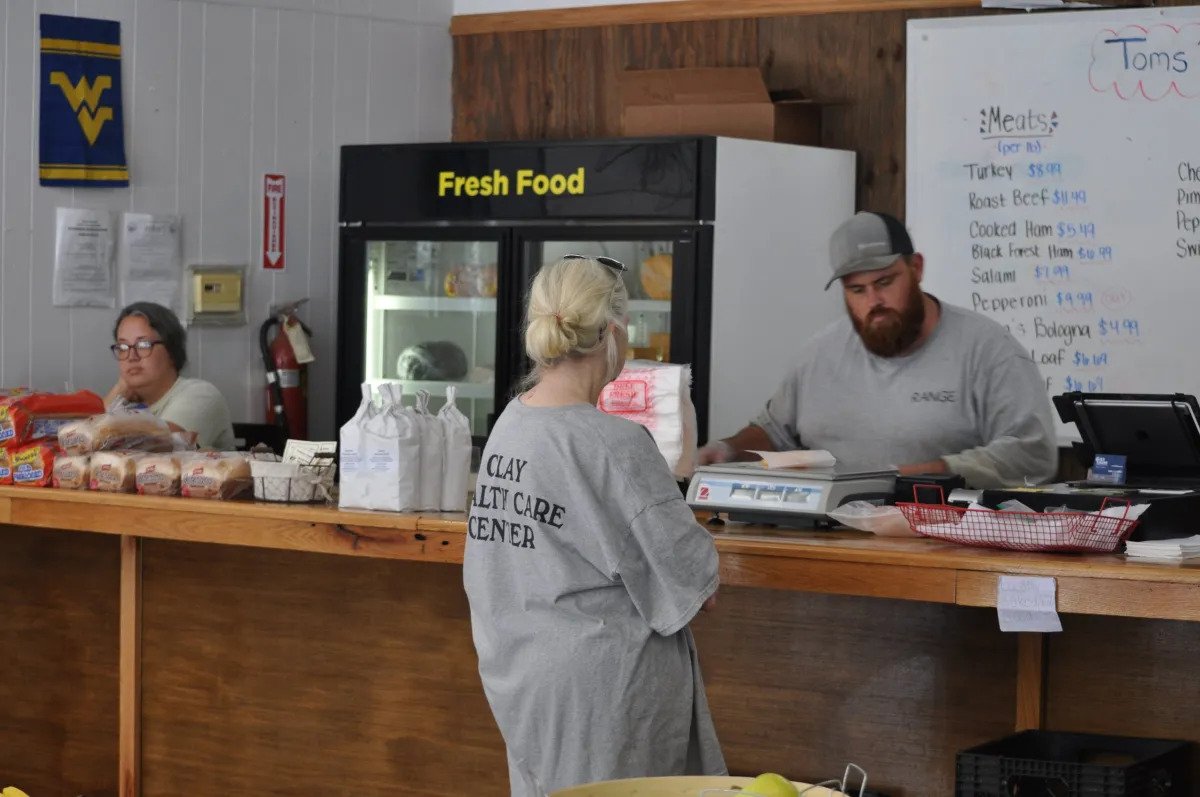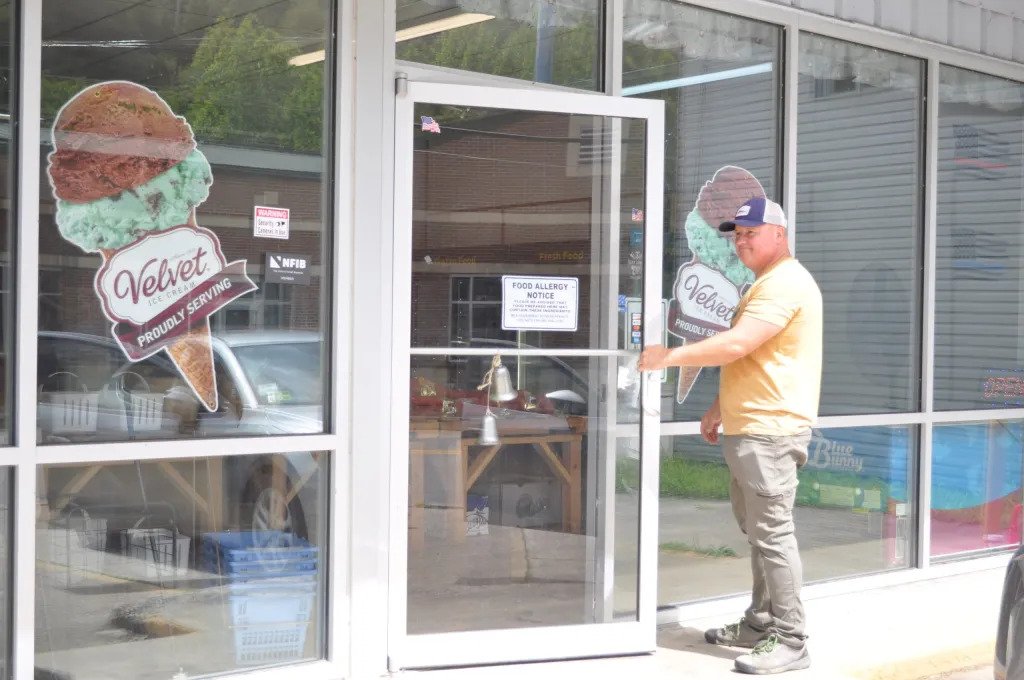 Small Town Market, a store started by two Clay County residents to help their neighbors get fresh food, closed recently
by Allen Siegler for Mountain State Spotlight
Lucy Cruickshanks walked into Small Town Market and headed straight to the counter to greet the store's owners.
"We really depended on you a lot," she told Sarah Williams one afternoon in late August, as her husband toured their 1-year-old grandson around the store. Cruickshanks, who lives in nearby Maysel, has known Williams and her husband BJ since they were kids.
"Until you all came, there was nothing in Clay," she said. "You couldn't get a head of cabbage, you couldn't get tomatoes, or any kind of vegetable."
Now, Clay is back to not having a dedicated grocery store or fresh foods market. After three and a half years of running Small Town Market, the Williamses closed their store permanently on Sept. 1. About 10 miles away, Legacy Foods is another small market that offers some fresh foods and baked goods.
Earlier this year, Mountain State Spotlight reported that Small Town Market, like other rural independent grocery stores in West Virginia, faced fiscal challenges that put it in danger of going out of business. Without financial support from county or state governments, experts said it was likely that these types of stores would cease to exist, leaving many of the state's rural communities without access to healthy foods.
Small Town Market didn't receive any financial help. Instead, its struggle to be profitable has only increased since this winter, culminating in its closure.
"It just sucks," Sarah Williams said. "You put everything you possibly can into it, and it just isn't enough."
An unsustainable environment for fresh foods
When the Williamses opened Small Town Market in 2020, it was a cause for celebration. Over the prior decade, Clay County had lost multiple chain supermarkets and residents struggled to find nutritious food options in the area.
The Williamses decided to fill that void and built a small grocery store in their hometown. Sarah Williams was even named one of WV Living's 2020 Wonder Women for her efforts.
"We missed vacations, missed sporting events," she said. "Late nights and in here seven days a week."
For a while, the store turned a profit. BJ Williams said federal Supplemental Nutrition Assistance Program, or SNAP, provisions from the COVID-19 pandemic gave some folks in the county money to spend on Small Town Market's produce and meats.
But when those funds slowly started to go away earlier this year, the small business struggled. Despite previous legislative proposals to create a state office to help counties support fresh food stores like Small Town Market, lawmakers didn't pass bills to improve food access in rural areas. Gov. Jim Justice did announce a $10 million fund to support food banks, but nothing to keep places like Small Town Market from disappearing.
"The county school board makes sure that children can access public education," said Joshua Lohnes, the director of the West Virginia University Food Justice Lab. "Is there a role for counties to ensure that residents can access food?"
Meanwhile, the federal government continued to roll back the COVID-19 SNAP provisions. From February 2023 to June 2023, more than 16,000 state households lost their food assistance benefits. More residents are expected to lose SNAP benefits in the coming months, as the state will soon require additional qualifications for families to receive the assistance.
Already, SNAP losses have been felt deeply by both West Virginia families and Small Town Market.
"We're 50% behind last year just in EBT sales," said BJ Williams, referring to SNAP benefits. "It's hard to make it in a town like this."
With that hit to their customer base, the Williamses knew their store was at a crisis point. This summer, they decided closing was their only option. 
Although Legacy Foods is in Indore and a couple of gas stations in Clay County sell a very limited variety of produce and protein, residents think these options cannot fill the hole that's left by the market.
"BJ and Sarah, they gave their all," said Tom Mills, a Wallback resident who went to Small Town Market regularly. "They really added a great value to the community. To me, it's a devastating loss."
'Shooting yourself in the foot'
Although their brick and mortar operations closed, the Williamses will try to keep selling fresh fruits and vegetables in their community. They just built greenhouses at their home in Clay to grow produce throughout the entire year. The Williamses plan to sporadically sell excess produce at a pop-up farm stand, but it won't be nearly as reliable as Small Town Market.
"There's gonna be some growing pains there because I've never grown through the winter before," said BJ Williams. "But hopefully I'm able to get it all under control, and I'm able to provide at least to some of the people around here."
In the meantime, Clay County will have to wrestle with how its residents can get healthy foods. Those discussions will happen as the state simultaneously aims to build up the tourism industry in the area. 
To Cruickshanks, the Maysel resident, any plans for Clay to increase tourism will be limited if county and state leaders don't make it possible for places like Small Town Market to survive.
"You're shooting yourself in the foot by trying to get tourism if you don't supply other things there," she said.