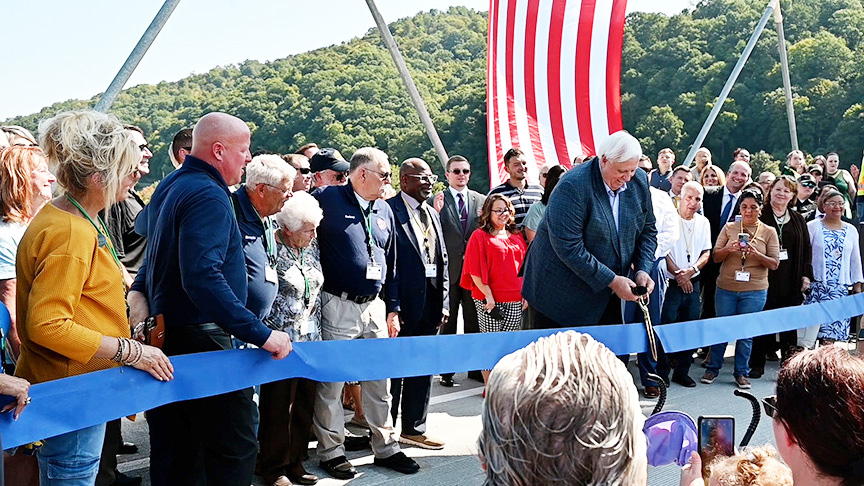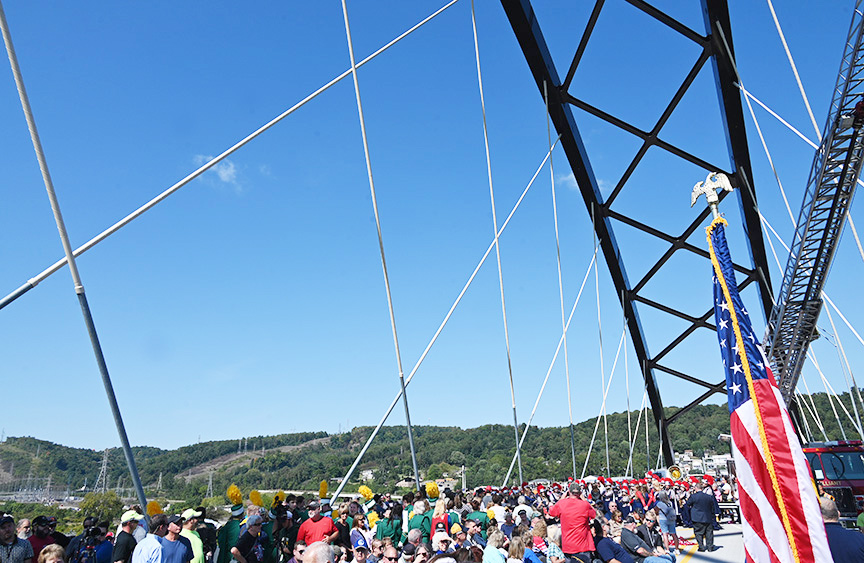 An estimated 2,500 people gathered on the newly completed Wellsburg Bridge connecting Wellsburg, West Virginia with Brilliant, Ohio, on Wednesday, Sept. 21, 2023.
"This is an incredible day for both Wellsburg and Brilliant because we are finally opening a bridge connecting these two communities that is long overdue," said Gov. Jim Justice. "This bridge is going to make life better for everyone who travels through West Virginia's Northern Panhandle."
Flatiron Construction, headquartered in Broomfield, Colorado, was awarded an approximately $131 million contract for construction of the new bridge. The 830-foot main span of the bridge was built off-site on the bank of the Ohio River just upstream from the bridge site, floated into place and lifted onto its pilings in April 2021.
Citizens on both sides of the Ohio River had been pushing for a bridge in the Wellsburg area for 100 years.
"Once again, the Governor here is to cut a ribbon on a project that has lingered and lingered and lingered," said West Virginia Transportation Secretary Jimmy Wriston, P.E. "In 2016, we elected the most dynamic governor in our state's history, who had a vision to put transportation at the forefront of our economic recovery. He is a Governor who is transforming our economy, diversifying our economy, and building the infrastructure that West Virginians and Ohioans deserve and appreciate."
Daylong festivities celebrating the opening of the bridge included a car show, food trucks, marching bands, choral groups, and live music.
Construction of the new bridge cuts what used to be a 40-minute drive to the nearest bridge across the Ohio River to a five-minute trip. That's a huge deal to local residents.
"This is a tremendous opportunity for the northern panhandle," said Barbara Miller, of Windsor Heights, West Virginia. "We'll use this bridge to go to the malls more easily.
"My granddaughter recently got a job in Steubenville, Ohio, so I am really happy she'll be able to use this bridge every day and shorten her route," Miller said.