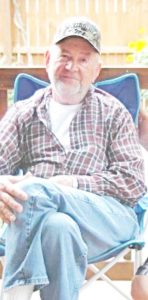 Walter Freddie Bird, 82, entered into rest at home surrounded by his family on March 16, 2023. He was born on December 13, 1940 to the late John Walter Bird and Gracie Gay Bird (Truman). He was born in Lizemores, WV, and was a lifelong resident of Nicholas County. He was a retired coal miner.
Preceding him in death were his brothers, James (Jane) Bird and Vencil (Sue) Bird; and is survived by his brother, Newton (Loretta) Bird; and sisters, Beth (Teddy) Samples and Rose Summers.
Freddie is survived by his wife of 60 years, Martha (Duffield); and his six children, Bruce (Pamela), Terry (Shirley), Laura (Rodney), Freddie (Lisa), Jodie (Scott), and Wesley.
Freddie had 23 grandchildren and 24 great-grandchildren.
Funeral services were held on March 20, 2023 at 1 pm at Wilson-Smith Funeral Home in Clay, WV. A viewing for the family and friends was from 12 pm to 1 pm. He was laid to rest at Sunset Cemetery in Fola, WV
Wilson Smith Funeral Home is honored to be serving the Bird family.