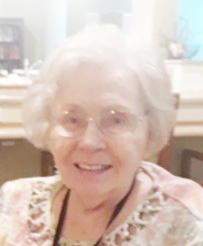 Sarah Eliza Samples, 89, of Parkersburg, WV, formerly of Broadview Heights, Ohio, passed away on May 4th, 2023 at the Wyngate Senior Living Facility.
She was born on October 10, 1933 in Wallback, WV, one of five children of the late Harrison and Alice Summers.
Sarah graduated from Clay County High School and was salutatorian of her class. She was assertive and hard working, starting her career as a secretary at United Fuel and retiring as an executive from Dominion Gas after more than 30 years service. She was a devout Christian, active in the United Methodist Church of Macedonia, and the Salvation Army.  She is remembered for her love of family, especially her Mom and Dad, her dogs, and driving fast cars. After the death of her husband Jim, she moved back to West Virginia to be closer to family.
Sarah is survived by seven nieces and nephews: William Summers Jr., Richard Summers, David Loughery, Mary Alice Lang, Mary Alice Mychek, Nancy Orosz, and Theresa Stransinger.
In addition to her parents, she was preceded in death by her husband James Emerson Samples, three sisters Helen Marie Summers, Virginia Arbaugh, Delva Hanlon, a brother William Summers, and two nephews Jack Schultz, and Terry Loughery.
A committal service was held at 1 p.m. on Wednesday, May 17, 2023 at Sunset Memorial Park 6265 Columbia Road North Olmsted, OH 44070. A celebration of life was held on Thursday at 5 to 7 p.m. at Leavitt Funeral Home, Parkersburg.
The family would like to thank Lynn Summers for her personal care and comfort, the Wyngate Senior Living Facility, and Amedisys Hospice for their care and compassion.
In lieu of flowers the family would recommend donations to the Parkersburg Salvation Army 534 5th Street Parkersburg, WV 26101.
Online condolences may be sent to the family by visiting www.LeavittFuneralHome.com.