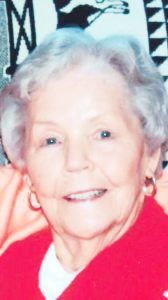 Dimple Leah Legg, 98, of Harrison, WV passed away April 11, 2023.
She was born November 15, 1924, in Widen, WV to the late Herbert and Roxie (Mays) Lane.
Dimple was preceded in death by her beloved husband, John "Ralph" Legg; her sons, John, Graden and Lynn; brothers, Carmel, Kenny, Carl, Vincent, Ira, Jack and Gene; and sisters, Gay and Velva.
She was a member of the Flat Fork Baptist Church in Harrison, located in Clay County, WV.
Dimple is survived by her three children, Roger Legg of Burlington, New Jersey, Patricia Legg Tyo of Gassaway, WV, and Rachel Legg Massey of Pinch, WV.
Dimple was blessed with 13 grandchildren, 23 great grandchildren, and 3 great-great grandchildren whom she loved very much. Dimple had an abundance of nieces and nephews.
A  funeral service was held at 4:00 p.m. on Saturday, April 15, 2023, with a viewing for family and friends from 3 to 4:00 p.m., at Wilson Smith Funeral Home, Clay, with Chris Johnson and Wayne Litton officiating. Burial followed in the Clay Memorial Gardens, Clay. 
Online condolences can be sent to the family at www.carlwilsonfuneralhome.com.
Wilson Smith Funeral Home is honored to be serving the Legg Family.