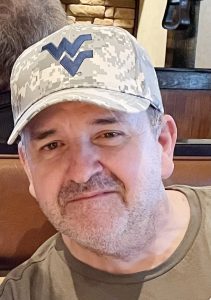 Charles Edward ("Eddie") Ray, 63, a resident of Wallback, passed away on Thursday, August 3, 2023, with his family at his side.
Born on April 21, 1960, in Sutton, WV, he was the son of Arthur "Ed" Ray and Charlotte James Ray.
Eddie graduated from Clay County High School in 1978. Soon after, he joined the United States Navy. In the Navy, he served for eight years and achieved the rank of Petty Officer 1st Class. During his time in active duty, he served aboard the USS Simon Bolivar, a naval submarine.
Eddie loved to hunt, fish, and watch West Virginia Mountaineer football and basketball. But most of all, he loved spending time relaxing with his family and worshipping the Lord. He attended church as much as he could and regularly testified to anyone who would listen.
Survivors include his wife, Lisa Keeley Ray; his son, Darren, and daughter, Lori; his parents, Ed and Charlotte Ray; his sister, Sherri (Bill) Bennett; and several nieces and nephews.
The family would like to specifically thank Dr. Scott Mitchell from Edwards Comprehensive Cancer Center, Kanawha County Hospice, and his nurse Amy.
Funeral Services were held at Wilson-Shamblin-Smith Funeral Home on Monday, August 7, 2023. Visitation opened to the public at 10 a.m., and services begin at 11 a.m. Afterwards, there was a private family burial at Donel C. Kinnard Memorial State Veterans Cemetery.
Contributions in his memory can be made to Wounded Warrior Project at https://support.woundedwarriorproject.org.